Here is a famous baby back rib recipe that I found years ago! It is fall of the bone deliciousness! I have been using this recipe for the longest time and everytime I try something new I tend to always go back to this particular one. I love the flavor that the specific seasoning gives it and the nice brown sugar flavor! It does take 2 hours to cook in the oven so I usually start this recipe way before we are going to eat. An hour into the cooking I usually start my side dishes. It pairs great with loaded mash potatoes and a nice shredded cabbage salad. Yum!!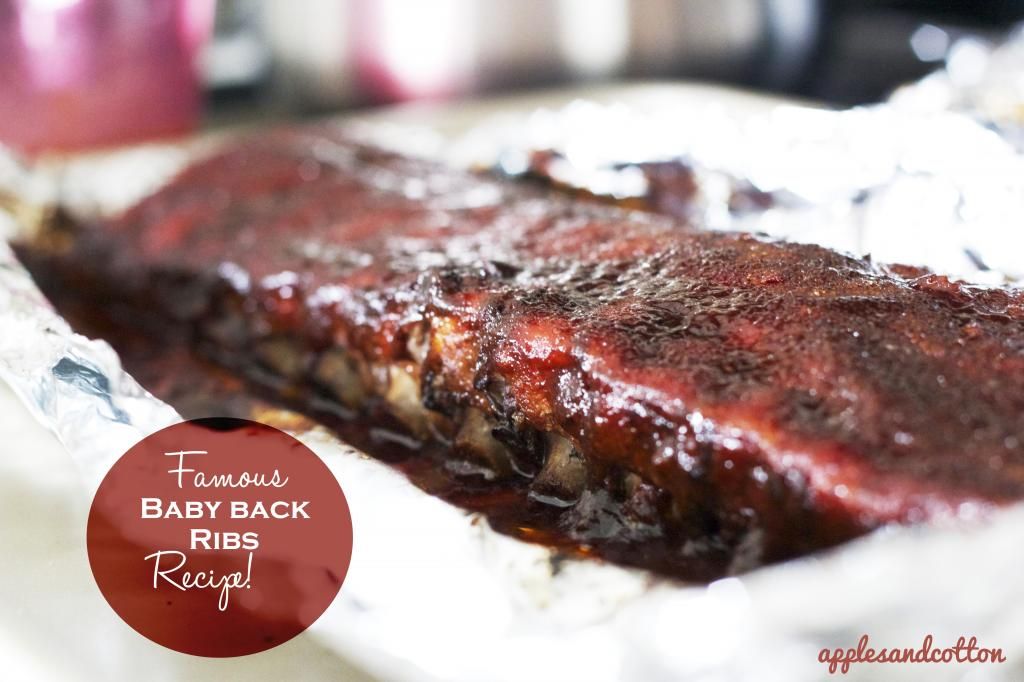 Recipe:
4

lbs

pork ribs (I usually get the Trader Joes Baby back ribs!)

1

tablespoon

paprika

1

tablespoon

garlic powder

1/2

teaspoon

ground red pepper

2

cups

of barbecue sauce ( any kind is good)
Directions:
1. Preheat the oven to 300 degrees F
2. Mix the spices together in a small bowl and set aside
3. Take the ribs and take off the shinny membrane that covers the bony side of the ribs.
4. Rub the mixture all over the front and back of the ribs, making sure to use up everything.
5. Take 4 long sheets of aluminum and put two on the bottom of your flat baking pan. Place the ribs meaty side down and bony side up. Then place the other 2 sheets of aluminum ontop and roll up the sides and the top and bottom so it's nice and tight. Should be no meat visible.
6. Place in oven and cook for 2 hours
7. After 2 hours take it out of the oven and uncover the top 2 layers. Flip the ribs bony side down and meaty side up. Rub the top with barbacue sauce and turn your oven to broil (this gets it very hot!) Broil for 3 minutes or so.
8. Enjoy!