My husband and I eat a ton of chicken every week:) I try to look for different recipes for our chicken obsession. Here is one that I found that is very yummy and easy to make.
Here is a very simple recipe for bbq pulled chicken. I found this online and tweaked it to my liking. You can also add or remove ingredients to fit your taste buds!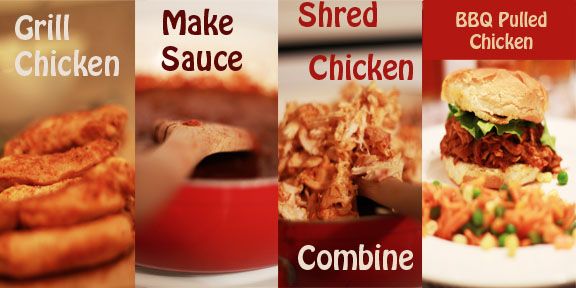 Ingredients

1 tablespoon coconut oil
1/2 large onion, chopped

3 cloves garlic, minced or garlic powder
1 (14-ounce) tomato sauce
1/4 cup ketchup
1/2 cup water
1/3 cup apple cider vinegar
5 tablespoons molasses
1/4 tsp ground black pepper
1/4 tsp chilli powder
Pinch salt
Pinch brown sugar

8-10 small chicken breast strips (grilled and shredded into thin strips)
I flavored the chicken with salt, pepper, garlic powder, and paprika before grilling.
Directions:

1. Add coconut oil to skillet. On medium heat, cook chopped onion until translucent.
2. Add the next 8 ingredients into skillet, not including chicken. Combine and cook for 15 mintues on med/low heat. This will cause all the flavors to come out. Taste your sauce to see if you like it. Add any other flavors you wish to have.
3. Add the grilled shredded chicken to the skillet and mix it into the sauce until combined.
You can eat this on a hamburger bun or as a side with mashed potatoes:) Yum!